College of Medicine Research Core Facilities
The UC College of Medicine houses a number of research core facilities designated as core service centers. These facilities exist within multiple departments but are collectively supported by the College of Medicine, Office of Research through the Associate Dean for Research Core Facilities: Ken Greis, PhD. (ken.greis@uc.edu; Tel: 513-558-7012).
The service center designation signifies that the rates charged by each of these facilities have been reviewed and approved by the UC government cost compliance office, thus the service fees can be cross-charged to federal grants and contracts. Details related to the services offered and the internal rates for each of the cores are provided below. Since these rates are substantially subsidized by the University, external investigators should contact individual core directors to get a rate quote.
Resources to offset some of the cost of the core services may be available through a variety of centers and institutes across UC depending on an investigator's affiliation. Information related to some of those opportunities and the website links are provided below:
We have recently transitioned our core facilities booking and management to the PPMS system from Stratocore. To book and access services from the core facilities, please log in or create an account in Stratocore via:
Stratocore Account Creation Guides:
Center for Advanced Structural Biology (CASB)
To access services from the CASB, please login or create an account in Stratocore at https://ppms.us/uc/start/

Overview:
Established in July 2022, the UC Center for Advanced Structural Biology (CASB) is integrating the latest technology in single-particle cryogenic electron microscopy (cryo-EM). This technology has revolutionized structural biology, emerging as the leading method in macromolecular structure determination to visualize large protein assemblies of unprecedented size and complexity, many of which are intractable by conventional NMR and X-ray crystallography methods. Through the support of institutional Research2030 funds, the first phase of equipment in now available for training and use by investigators as part of the CASB core facility. This includes a Thermo Talos L120C Transmission Electron Microscope (TEM) that can be operated at both ambient and cryogenic temperatures and is ideally suited for imaging negatively stained samples and screening cryo-EM samples prepared with our TFS Mark IV Vitrobot. Details of both systems are provided in the equipment section.

For Phase 2, the CASB applied for and was awarded a Shared Instrumentation Grant (S10OD030388) from the high-end instrumentation (HEI) program from the National Institutes of Health (NIH). The S10 funding along with additional institutional funds led to the purchase of a Thermo Glacios 200 kV cryogenic TEM equipped with both a Ceta-16M camera and a TFS Falcon 4 direct electron detector, in addition to a Selectris Energy Filter. This system will have the potential for solving atomic resolution structures for SPA projects. The Glacios will also come equipped with software for micro-Electron Diffraction data set collection. This system will be delivered in November 2022 with installation and full operation expected in early 2023.

Services Available:
Training and access to the Mark IV Vitrobot plunge freezer
Training and access to the Talos L120C TEM system
Assisted TEM analysis by CASB personnel (inquiry required)
Location & Hours:
The CASB is located on the ground level of the Medical Sciences building in room G056. The Facility Manager is available Monday - Friday, 9:00am - 5:00pm or by appointment.
Acknowledgement
For manuscripts, please include the following statements or consult with the facility manager regarding authorship:
Cryogenic TEM data were collected in the UC Center for Advanced Structural Biology (CASB) under the direction of Desirée Benefield, PhD, on instrumentation supported by UC Reseach2030 and fund from JobsOhio.
Grant Information
Specific methodology and instrumentation description and facilities information for your grant submission is best supplied via a consultation with the facility manager to ensure proper alignment of the core information within your grant needs.
| Service | Cost |
| --- | --- |
| Talos L120C TEM system (unassisted) per hour | $30 |
| Talos L120C TEM system (assisted) per hour | $100 |
| Vitrobot sample preparation (unassisted) per hour | $25 |
| Vitrobot sample preparation (assisted) per hour | $95 |
| Negative Stain Bench (unassisted) per hour | $20 |
| Negative Stain Bench (assisted) per hour | $90 |
| Personnel Time per hour | $70 |
Talos L120C TEM system
The Talos transmission electron microscopy offer the ability to screen samples with high contrast and high sensitivity. Specifications include: 0.204nm Line resolution and <0.37nm point resolution. This system is housed in MSB G056 and will be used for negative stain imaging and for cryo-EM sample screening.

The Talos is equipped with a Gatan Elsa (698) side-entry cryo-holder for imaging cryo-EM samples.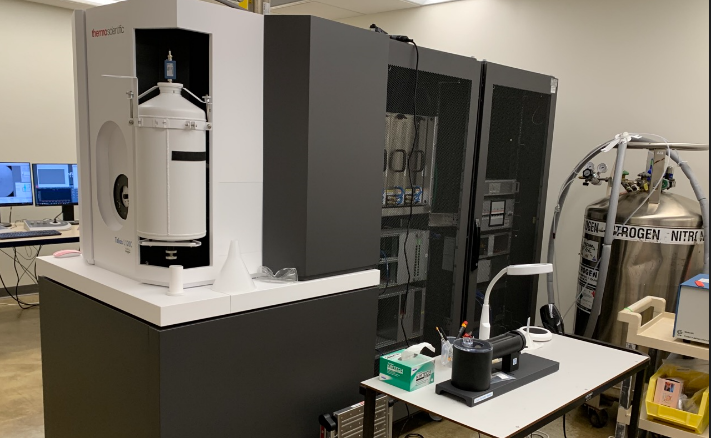 Mark IV Vitrobot
This system allows for reproducible vitrification of biological sample for cryo-EM analysis. Vitrification results from a rapid-freezing method that forms transparent, amorphous ice without damaging the biological samples. The Vitrobot interface offers control over temperature, humidity and other grid blotting settings allowing for reproducible sample freezing conditiions.
Location
Medical Sciences Building
231 Albert Sabin Way, Room G056
Cincinnati
45267

Hours
Monday - Friday, 8:00am - 5:00pm, or by Appointment
Contact Information
Desirée Benefield, PhD, Facility Manager
513-558-0061
Contact Us
University of Cincinnati
College of Medicine
CARE/Crawley Building
Suite E-870
3230 Eden Avenue
PO Box 670555
Cincinnati, OH 45267-0555
Mail Location: 0555
Phone: 513-558-7333
Fax: 513-558-3512
Email: College of Medicine